1967 Chevrolet Chevy II Wagon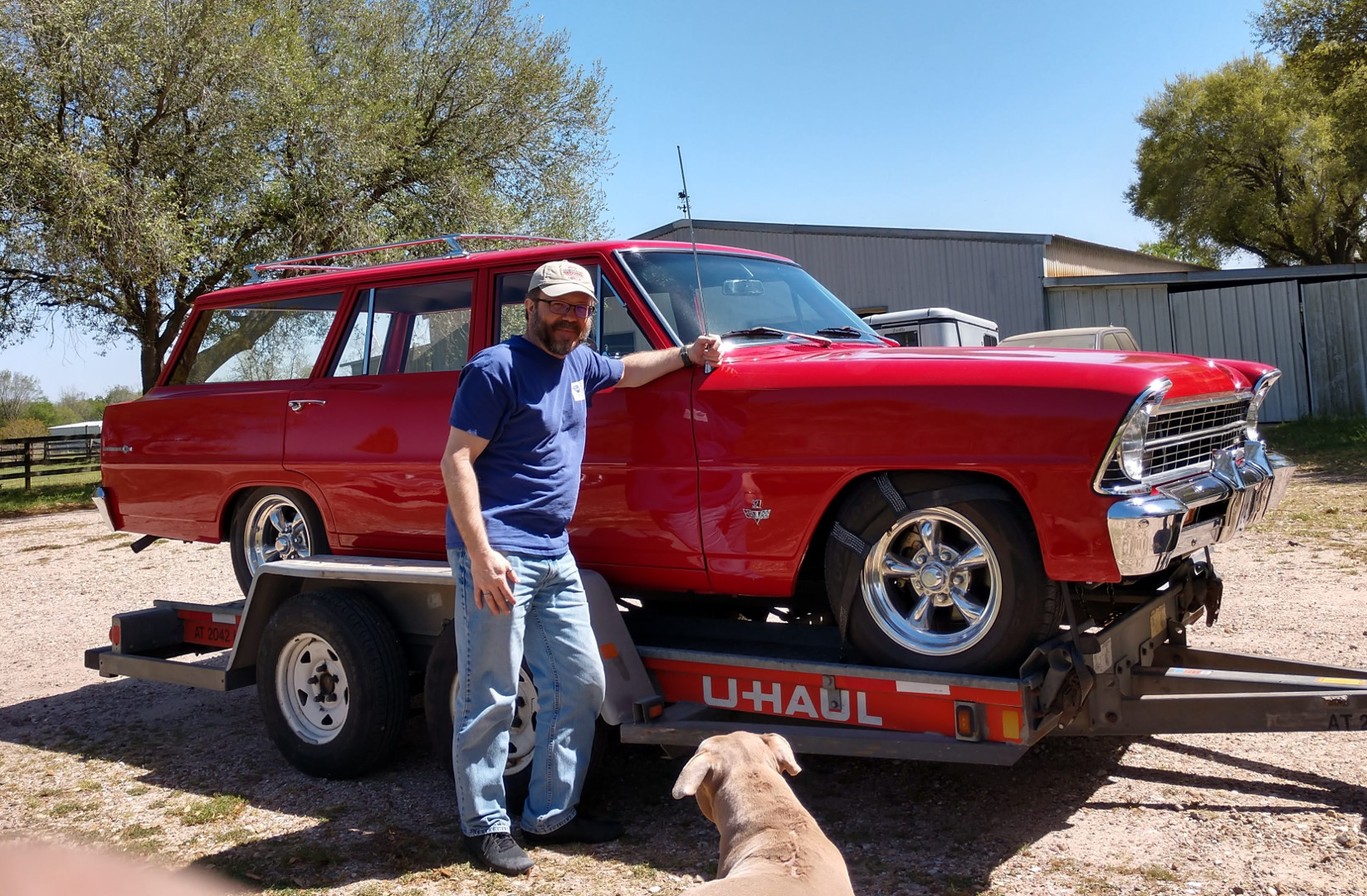 I've been missing the Corvair for a while now. (Why did I ever sell it?) This time I decided to go for something a little more conventional — front-engine, rear-wheel-drive — that I could do more with on my own. This is a Chevrolet Chevy II Wagon. It's a model 100 — the base car with literally no options indicated by the absence of line 4 on the trim tag. It even has the three-speed manual transmision with the shift lever on the column, colloquially referred to as a "three-on-the-tree." But it did come with the highest spec (for a Chevy II 100) 283 cid V8. And the best part? Wagon!
Most folks are probably more familar with the "Nova" name for this car, which designated the top-end model 400 in '67. The Chevy II name was replaced with Nova across the lineup for the newly-redesigned 1968 model year.
I looked at a lot of ads and even a few cars in person over the Covid-19 years. I even found a couple of nearly affordable Pontiacs (my first automotive love) that really set me on the trail to finally owning the GTO or Firebird I dreamed about in high school. Alas, those sold before I could get out to inspect them and make an offer. But even a Tempest or LeMans is good condition is a little beyond my budget.

So when this little gem appeared in my searches, I jumped on it immediately. The factory Bolero Red paint and Tuxedo Black interior aren't perfect, but they're really good. And the best part is this car underwent a full rotisserie restoration a number of years ago, so the bottom of the car is as clean and rust-free as the top. It's amazing!
This car punches a couple of important buttons for me:
Small: Something about that GM Z-body Corvair really clicked for me. I like the small size of that, the BOP Y-Body and this X-body platform unique to the Chevy II. Built during many of the same years, the Chevy II is the bog standard economy car sibling of the high tech (for a '60s car) Corvair. Unlike the Corvair, you can easily get one with a V8. Plus, the 17-foot '66 GTO I really want doesn't even fit in my garage with the dump sink there. And smaller is also more fun to drive, lighter and responds better to performance increases.
Manual Transmission: I was really getting into the idea of performing my own automatic/manual transmission swap. There are kits out there nowadays and there's even a 5-speed overdrive T-5 variant that makes highway cruising a lot nicer and is still narrow enough to fit in a tunnel sized for an old Muncie 4-speed. The thought has occurred to me to swap the three-on-the-tree for a floor shifter too and having all the clutch linkage already there would make that a lot easier and I still get to learn how that operates.
Wagon: I. Like. Station Wagons. They are so much more stylish that clunky SUVs and tall crossovers but all of the utility of a large, enclosed cargo space. And the load floor is at a much more accessible height. The back seat folds down flat in this one for even more space. Alas, it is nigh impossible to find a new wagon in the ugly crossover craze.
Parts availability: This was the revelation the Corvair taught me. Finding new, reproduction parts for a car you're restoring or even just maintaining is so much better than combing junkyards and swap meets. As much as I'd love to have a '61 or '63 Pontiac Tempest (a wagon if I could find one!), replacement parts are severely limited in availability and selection. The hot-rod crowd produces demand this lightweight chassis for building race cars and the aftermarket community can supply.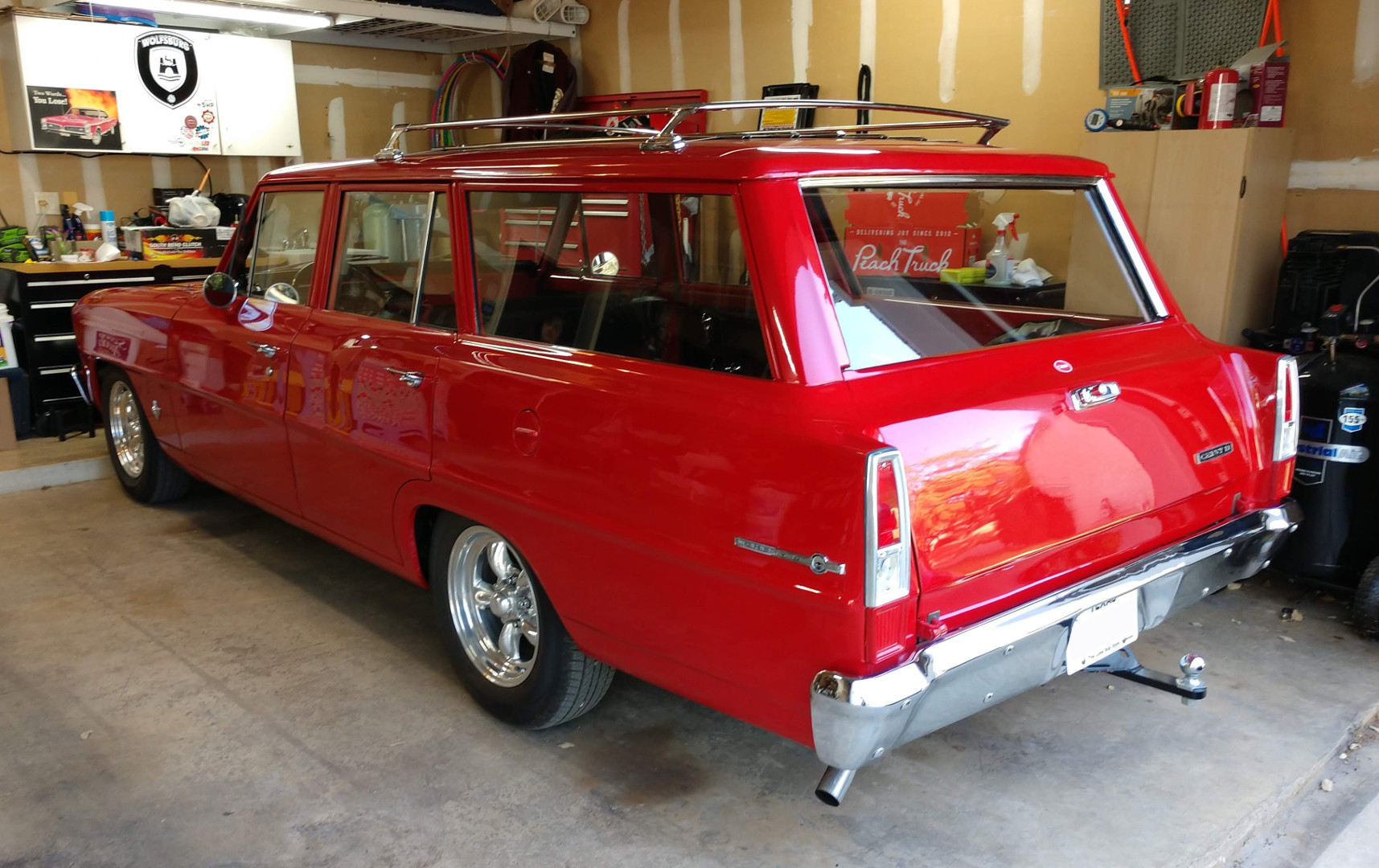 It needs a few touch-ups and TLC here and there, but nothing at all serious. It runs, drives and stops (thanks to upgraded Chevy front disc brakes and an aftermarket brake booster) very well. I'm hoping a little camber correction will fix a rubbing left-front tire, but it might need new wheels with the proper offset. I'm not sure if the disc brake upgrade increases the front track, pushing the tires outward. The 283-2V V8 fires right up and drives well, though it could use some tuning. The previous owner pointed out a darker spot of poorly done touch up paint to the driver's A-pillar and I've come across a couple little bitty bubbles on the outside of the drip rail and a couple in the roof. There are a couple runs in the tailgate. All very minor and easily corrected at this stage. The car shows very well, but the paint could use a good buffing to clean up the outer surface of age-related scratches.
Enough introductory yappin' for now. There's tinkering to be done. I have more photos to download and many more to take. Until then, I'll see you in the garage.
"Never underestimate the bandwidth of a station wagon full of tapes hurtling down the highway."

—Andrew S. Tanenbaum and others