Modifications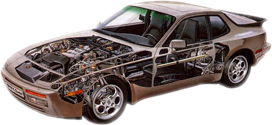 This is the track car (or would have been). As you can see, a vast majority of these items were not completed. In the meantime buying the Turbo S already got me a good suspension and plenty of power for lots of fun.
Engine
Chip

A previous owner installed Autothority Stage II Turbo S chips and the associated banjo bolt. It feels pretty strong to me but I have no reliable frame of reference. I'll get a baseline on a chassis dynamometer before I change anything myself.

Synthetic Fluids

10 Oct 2002: All fluids were flushed and filled with synthetics including Mobil 1 engine oil and Royal Purple gear oil.

Oil Pan Baffle

This helps prevent the oil from climbing the walls in extended high-G corners and starving the oil pickup. This isn't a problem on the street but it can happen on the track. I had to replace a leaky oil pan gasket so while the pan was off I had my mechanic weld this into it.

Turbo/Wastegate

Why rebuild your turbo when you can improve it? Might as well while you're in there. A cockpit-adjustable wastegate would be pretty nifty too, particularly since I'd be learning to drive all that power so reducing boost at first would be prudent yet I could still get my "How much did I spend!?!" thrills on straight roads.

Intercooler

It's not dependent on the motor being out so it can be done anytime. It's also cheap, comparatively.

Exhaust

The factory exhaust is still on the car with 14 years of rust and dents to prove it. It may be replaced as necessary. I would go with a 3" system from the turbo and retain the catalytic converter for street use.
Brakes
The nice thing about buying a Porsche is that the brakes are already adequate the for novice and even many advanced drivers. My plan was to upgrade to the "big black" 928 S4 brakes which I got buying the Turbo S anyway.
Stainless Steel Brake Lines

10 Oct 2002: This results is a more solid pedal feel. Replacing anything rubber on an old car is probably a good idea.

High Performance Fluid

10 Oct 2002: Flushed and filled with ATE Super Gold, the same DOT 4 product as ATE Super Blue except in color. The reservoir had quite a bit of schmutz in it.

High Performance Pads

It appears a previous owner recently installed a set of Repco pads. They squeal when they get hot but work quite well on the street. Okay. The factory pads strike a good balance between performance, squeal and dusting. I'll go back to them until I find that a higher performance pad is necessary for the track. Even then I'll probably use the factory pads on the street.

High Performance Rotors

When the current discs wear out I may upgrade to a set of Frozen Rotors for long life. Another option is a two-piece aluminum hat and steel disc for unsprung weight savings and less expensive replacement of the wear surface (after the initial cost anyway). Perhaps I can combine the two. I doubt I can afford cast-in cooling holes but I'll probably find some benefit to slots.
Suspension
The M030 suspension on the Turbo S is already a reasonable performer and includes adjustable spring perches as well as rebound-adjustable Koni "yellows." Regardless, there is always room for improvement where Porsche engineers have made various concessions to a primarily roadgoing car. I will probably upgrade the suspension all at once some time after the motor rebuild.
17" Wheels and Tires

I installed some 3-piece, forged Fikse FM10s that are light weight (at 21 lbs, they're lighter than the tires), strong and look good.
Strut Tower Brace It seemed odd to me that this car did not have one from the factory. I am not sure how beneficial this is to a 944 but they are reasonably inexpensive.

Anti-Sway Bar

The M030 front bar is enough for now however many 951 pilots have benefited from a stiffer rear bar to help bring out the rear end in a controlled manner. The 22mm Weltmeister bar is huge in comparison.

Coilovers

At some point I would like to replace the front coilovers and rear torsion bars with coilovers all around and stiffer springs.

Dampers

The Koni single-adjustables are quite nice but along with stiffer springs I would like to upgrade to more track-oriented dampers. Adjustable, remote reservoir Ledas are becoming more affordable.

Camber Adjustment

More negative camber than the factory setup affords will increase turn-in and lay down a larger contact patch on the track. The Weltmeister CamberPlate looks promising.

"Charlie Arms"

These light, aluminum A-arm replacements use Heim joints instead of rubber bushings. The intent is to increase responsiveness and feedback. They have replacable ball joints and are a good upgrade when your factory ball joints wear.
Safety
Cage

A roll cage increases the rigidity of the chassis keeping the suspension in alignment and protects the occupants in a collision.

Seats/Harness

Proper support in all planes of motion allow the driver to concentrate more on driving than staying seated. I will get a five- or six-point harness and a compatible seat. Racing seats should also reduce weight.

Fire Suppression

While I may not need to worry about racing sanctioning bodies' requirements anytime soon a fire extinguisher makes sense in any car on the track or on the street.
Body
Repair, Weight Reduction

The hood, right front fender and front bumper cover were damaged when a previous owner rear-ended a truck. Eventually I'd like to replace the front clip and hood with carbon fiber parts and repaint the entire car. The resulting lighter weight increases the car's braking, accelerating and cornering capabilities. While it would be cool to step up to a widebody but I can get 245 tires up front and 275s out back with the stock fenders which should be adequate.

Lexan Windows

As with the carbon fiber body panels, lighter Lexan windows increase performance at the cost of some noise. The front windshield will remain glass to keep the car street legal.

Window Tint

The tint on the car now is scratched and discolored. However I don't want to replace it on the glass if I'm going to replace the glass with Lexan sometime.
Interior
Weight Reduction

The back seats and much of the carpet and upholstery are unecessary to the task of going fast. Much of the interior is a little worn out and I'm really not a big fan of the burgundy. I'd like to change it to black and some accent color. However, a stripped car is loud. I will implement sound deadening somehow and I want the interior to look nice even if it does become rather spartan.

Dashboard

The original dashboard is damaged from long exposure to the sun. I would like to replace the top with a carbon fiber replacement from GT Racing and dye the rest of it black.