Sold! 944 Turbo S
Sold
Many thanks to everyone who enquired. It sold to a genuine enthusiast who I'm confident will take very good care of it. For now, I'm leaving the site pretty much as-is. Once moving to a new house and all that insanity subsides I hope to have time to turn this into a nostalgia site.
For those interested, there is a 1991 944 S2 for sale on the Hill Country Region Porsche Club of America web site. The S2 doesn't have the ultimate power potential of a Turbo, but in stock configuration they are quite similar. Power delivery of the S2's larger 3.0l motor is greater at low RPMs making it somewhat more streetable. It gets up and goes when you ask it. The Turbo, especially the S, has a lot of lag. Newer cars tend to use smaller turbochargers to reduce the lag time it takes for the compressor to spin up and start making boost.
For Sale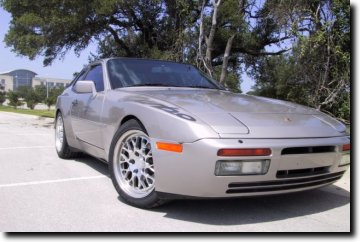 The Turbo S is a rare car — only 1635 were ever produced. Be sure to read the 1988 Automobile Magazine article comparing the Turbo S to a 911 Turbo. Factory features in addition to those found on regular 944 Turbos:
M030 suspension including height-adjustable spring perches and rebound-adjustable Koni shocks
K26#8 turbo and DME/KLR tuning, 247hp (30hp increase over regular Turbo)
928 Club Sport wheels, forged, light and strong (actually the fronts are 7.5" rather than 8" like the 928)
928 S4 "big black" brakes
hardened first and second gears
limited slip differential
transmission oil cooler
I or a previous owner have since installed:
oil pan baffle to prevent #2 rod bearing failure in extended, high-G turns
stainless steel brake lines
Lindsey Boost Enhancer (faster spool)
50% reduction short-throw shifter (original included)
22mm rear sway bar (M030 bar included w/ car)
strut tower brace
Weltmeister Stage II Turbo S chips and the banjo bolt which are advertised to give 300 hp (originals included)
MP3/CD player head unit
aftermarket remote keyless alarm system
It definitely feels as strong as my old 928. These are detailed on the modifications page.
Comfort and convenience features include a sunroof and climate control system.
The car has a few cosmetic blemishes but is in excellent mechanical condition. The original Silberrossa front seats were replaced by the previous owner with burgundy, partial leather, 8-way electric seats from another 944 Turbo. There are no cracks or tears in the front or rear seats. Photos are available on this site, however, the Fikse wheels in the later photos have already been sold. Also included are several oil filters, replacement plastic Stonegard material (orignals are cracked), and an interior from the burgundy Turbo from which the front seats were taken.
Full Disclosure
There is some repaired front end damage from the original owner. The bumper cover and right fender were replaced with parts from another 951. There is filler in the hood and everything was resprayed. The car aligns perfectly and having gone through one complete set of unidirectional tires, I did not observe abnormal wear.
The dashboard has several cracks in the cover. Originally I intended to replace it with a carbon fiber dash but never got around to it.
The right ball joint is showing signs of needing replacement. Rather than fixing it myself, I leave the new owner the option of replacing the one ball joint, both or investing in a set of high-performance "Charlie Arms."
As mentioned previously, there are a few blemishes in the paint — this is no concours winner. The Stoneguard protective covers around the wheels are cracked from age but I have replacements for them.
One of the driver's seat adjuster switches suffers from worn contacts. I have a replacement part on order which will be included.
The brake pad wear indicator occasionally comes on. Visual inspection shows that all the pads are fine so it would seem there's a bad sensor or intermittant connection at one of the wheels. I haven't done anything about it since it doesn't affect drivability and it's been rather hot outside.
The condition of the car is built into the price.
Recent Maintenance
The Yokohama AVS Sport tires on it now are fairly new. I recently replaced the timing belt and had it retensioned after the specified interval. Rollers, guides and the waterpump were replaced at the same time. I've driven it at least once per week to keep the seals wet. There are no leaks of any kind. 944 A/C is better than that in 928s and 911s and this one blows cold.
Motivation
Since the birth of our daughter, having two coupes has been a problem since neither of which can carry a baby seat. We're also looking to buy a house soon, so a little extra cash would be helpful. Therefore I have decided to replace the two two-doors for one four-door. 2 * 2 = 1 * 4, right? I bought the Porsche intending to take it to the track, but I never made it there. Changing priorities don't you know?