Sold! 1965 Corvair Monza Coupe
Many thanks to everyone who enquired. I sold my car to an enthusiast new to the Corvair world but willing to dig in. I wish I still had it, of course, but I think it went to a good home.
This is my 1965 Corvair Monza Hardtop Coupe with the 110 HP, 2-carb, 2.7L flat-six engine and four-on-the-floor manual transmission. '65 is the first year of the "late model" Corvair with the shapely body and fully independent rear suspension from the Corvette. The chassis is straight and tracks perfectly. I have the blue Texas title in my name. This car gets waves, smiles, thumbs-up and "What is that?" everywhere I go.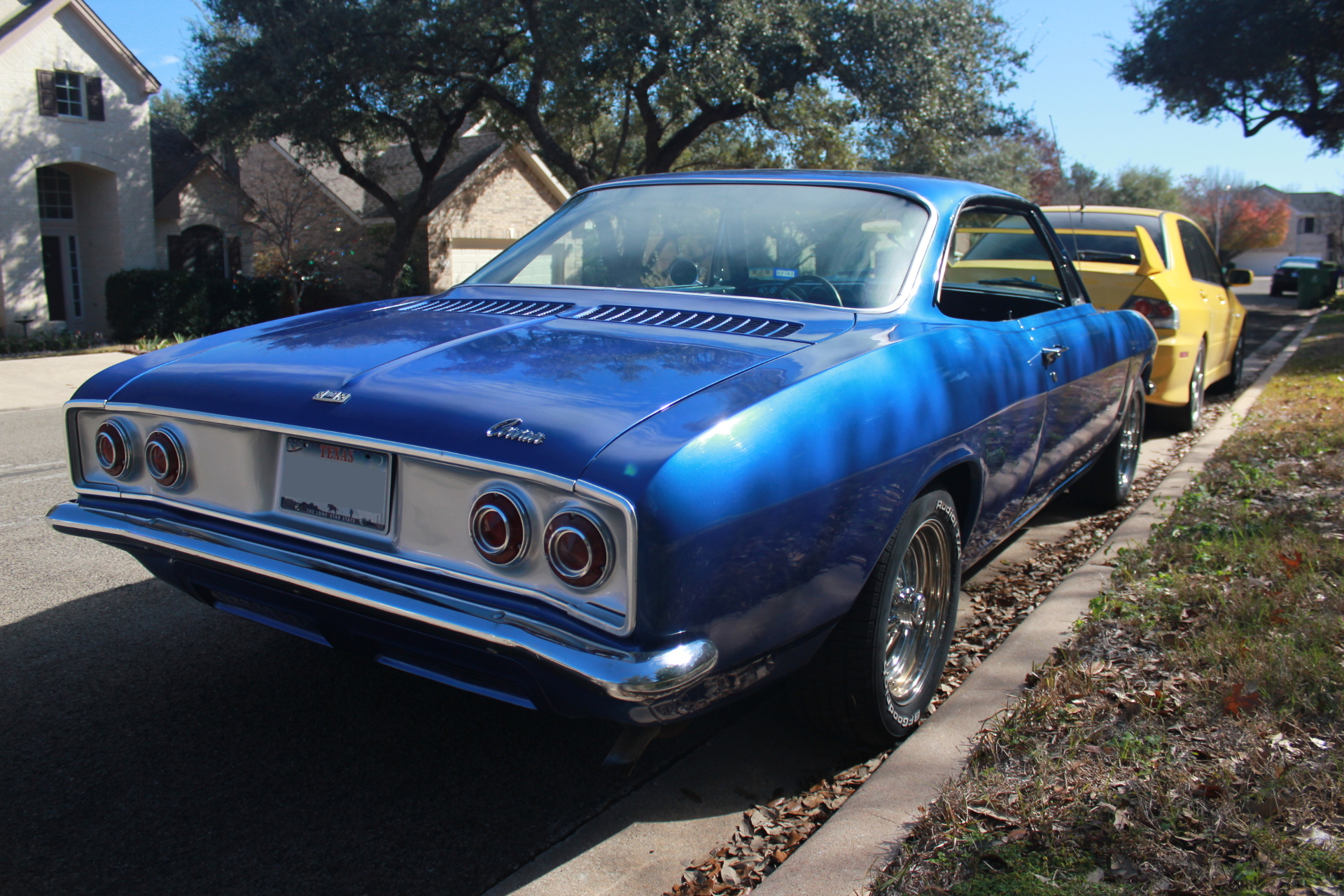 Please have a look at my photo page for more pictures but here are a few specifics to note.
I bought this car to drive it. The suspension has been fully rebuilt with all new rubber or Delrin, new wheel bearings, adjustable Koni dampers (I have them set full-hard which transformed the car's handling), and Chevy heavy duty front springs (rears in box). In spite of Nader-inspired ignorance, it can out-handle anything from the day except a Corvette. I also have a rear sway bar new-in-box I haven't yet installed. I bypassed the original mechanical fuel pump with an electric pump, replaced all the "fuzzies" and made dozens of little fixes. The previous owner upgraded the front brakes with discs, added an aftermarket A/C, replaced the clock with a Sunpro tachometer, replaced the steering wheel, restored the interior including handsome gray inserts in the seats and added period Cragar SS wheels. When my other old car suffered a radiator failure, I commuted 50 miles every weekday of October 2015 in this car. I continue to drive it every weekend and more. I have it registered as a regular car, not an antique.
The motor has an older rebuild by a previous owner about six years ago and remains in excellent condition. I have a spare pair of carburetors; you can add Corsa intake manifolds and linkage to convert the intake to the 4-carb 140 HP setup, keep them as spares or return them to corvair.com for ~$500.
So why would I sell? Both my cars are toys which is fun but impractical and I eventually decided to keep the hard, loud 450 HP homologated rally car. I loathe selling this beauty, but garage space is at a premium and I cannot justify three cars. I may find a boring, used electric for everyday commuting, but I have plenty of time to decide.
Unlike many other classics, Clark's Corvair Parts and several other vendors make owning a Corvair a remarkably painless experience. You don't have to dig through junkyards or specialty car shows hunting for parts. Nor do you have to suffer the decay of old rubber or plastic NOS parts.
The original color was yellow according to the body plate. The metal flake blue on it is not concourse quality, but looks quite good from 10 feet. Notice the Corsa-style silver painted tail panel. There are a couple bubbles forming in key spots; they haven't grown but you'll want to attend them eventually. A few chips on the hood and sides show hearty use. I'll show you everything I found. The floor pans are solid as are the trunk and engine compartment.
The mileage on the title is marked "exempt" and the odometer stopped at 10,000 since I've had the car. I can only assume the mileage has rolled over 100,000 since it's a 5-digit odometer. Condition trumps mileage on classics and this one has it where it counts.
Common Corvair problems include leaking pushrod tubes, carburetor synchronization, shift linkage locked out of reverse, tires rubbing and all rubber turning into dust. This car exhibits none of those problems. Keep an eye out for these when you shop other Corvairs then come buy this one.
Thanks for looking! I will deal in-person only. Cash sale. No trades. You handle transport.