Golf R Audi Wheels
I like the factory Cadiz wheels well enough. The 5-spoke pattern matches the bolt holes and shows off the binders while the "Go west, young man!" wagon wheel wrapped in a thin band of rubber is very much in fashion. And they're fairly easy to clean. Certainly the short 35-series sidewall makes turn-in sharp and predictable, even on the OEM Continental ContiSportContact 5P A0 tires.
But the OEM wheels or tires might be cursed. I've replaced the front right tire once and the left twice. The last time was a slow leak that proved to have delaminated a half dollar-sized piece exposing belts on the inside.
Even with the DCC dampers set on comfort, the 235/35/19 tires crash over bumps and dips on real world roads, threatening to bend the (surprisingly tough) OEM wheels. While they're likely better than smaller wheels on a smooth racetrack, the 19s just aren't fun on the daily commute. So when the factory rear tires wore out and the fronts were within 5/32s, I decided to upgrade to 18" wheels. Some have had success with 17s for a winter setup but finding the width and style I wanted was not entirely straightforward. Plus I already had an 18" wheel in mind.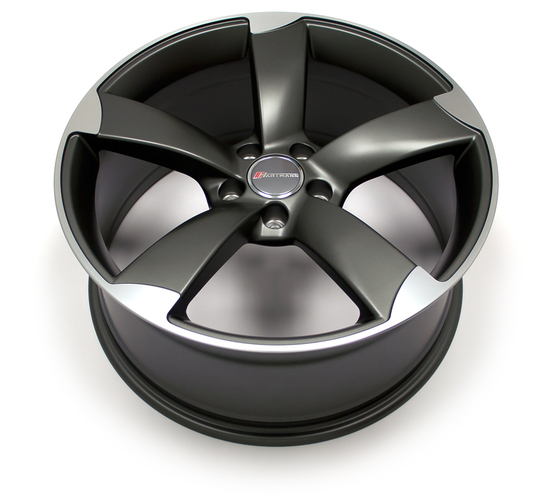 I liked this B7 Audi S4 wheel since I first saw it and I'm a big fan of Audi and Porsche wheels on a VW. The MQB-chassis Audi TTR comes with these so fitment should be a snap. Since no one makes a Porsche Phone Dial wheel in the proper fitment, I went with a set of Hartmann HTT-256-MA:M replicas from Achtuning.
The simple design and brake-dust-gray spokes are easy to keep looking great. They're 8" wide like the factory 19s which fit the 235 mm width tires well. That's about as much rubber as the stock suspension and fenders will comfortably allow. The +47 mm offset pokes out a scant 3 mm more than the originals which looks imperceptibly more aggressive but was a sure-thing to fit. Plus they're almost 7 lbs. lighter than OEM — less unsprung weight translates directly into better handling. They're nothing like expensive, forged racing wheels, but I'll take it. The casting process has the same name as the OEMs so hopefully they're just as strong. I've bent a couple cheap aftermarket wheels on other cars to make me wary.
Tire Rack was having a sale on Michelin Pilot Super Sports in 235/40/18 at the time so jumped on the chance to have these highly rated tires. I was not disappointed. I would venture to say that they are the best all-around tire I've ever driven. They have the wet and dry traction of the best tires I've ever had on the Evo but without all the road noise typical of max performance summer tires. The sidewall boasts a high treadwear compared to other Michelins, but time will tell how long these last. The factory tires — those that weren't replaced due to damage — went less than 18K. With 2/32s more tread depth than most, I'm hoping these will make it 25K.
They look so good on the Golf I'm highly tempted to get a set wrapped in 235/45/18 for the Passat VR6!