2005 Mercedes-Benz CL600

V12
Once upon a time, I heard a straight-piped V12 howl. The sound was like a high-powered Italian race car. The hook was set. One day I hoped to have one of my own.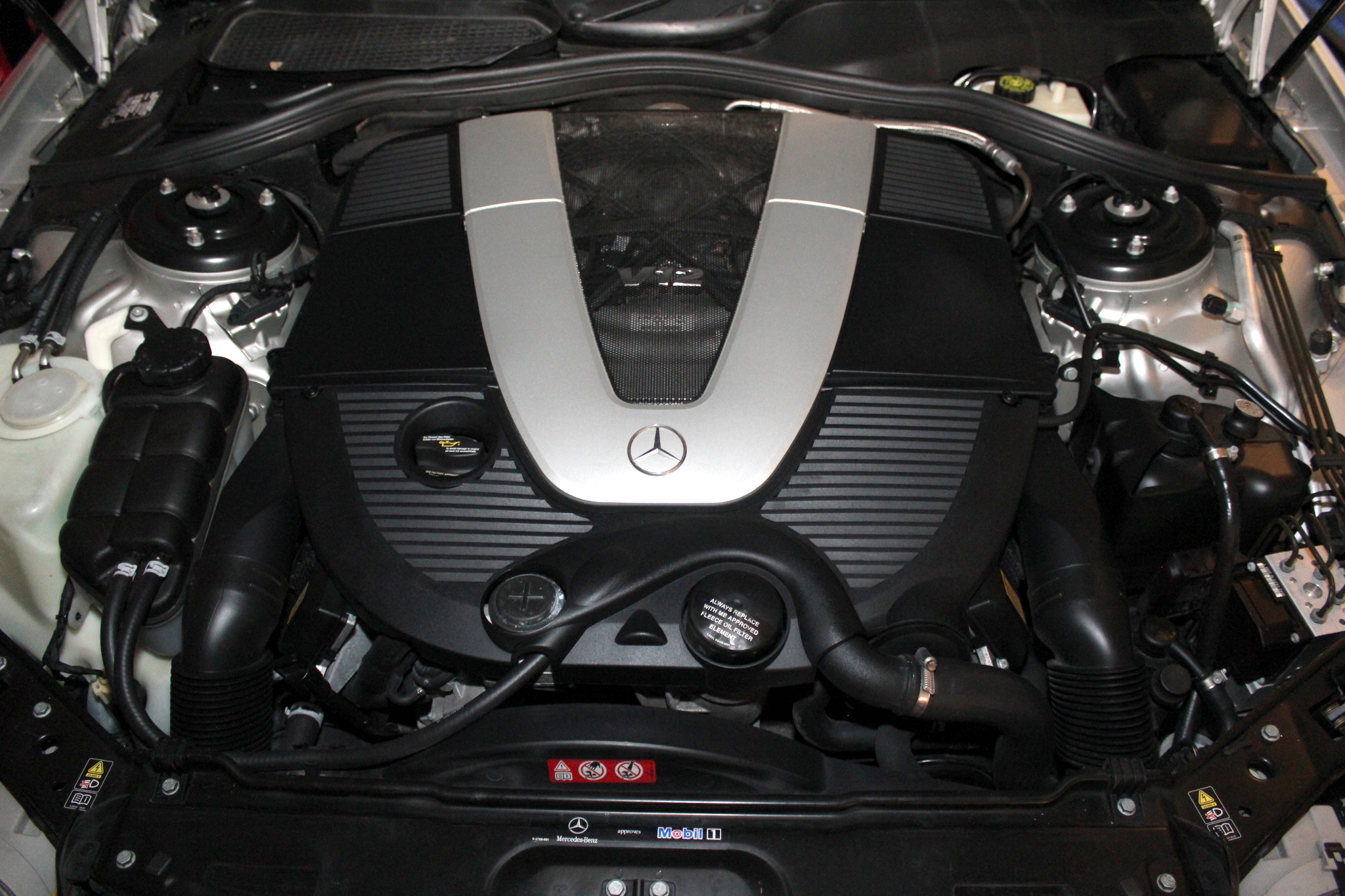 That's what we have here. It's a Mercedes-Benz M275 5.5L twin-turbo V12. It makes around 500 hp, but this motor is all about the torque: 600 lb-ft of it.
I started searching for a '90s-era M120 naturally aspirated V12, but finding a car that old with low miles and not needing a lot of work was turning up few possibilities. And the reliable M120s just don't have as much power and flexibility as the later turbo 12s. I considered BMW and other brands as well, but nothing quite appealed to me as well as a big Benz. I was having trouble getting excited about anything else.
I could have been happy with this motor in any available model: S600, SL600 or this CL600. (The ostentatious AMG 65s remain a bit pricier than I can allow myself.) The S-class would have been fine, though we already have a sedan with a big back seat that gets way better fuel economy for long family trips. I figured I could enjoy another convertible — this time one with wildly better performance — but the SL doesn't have back seats which makes it unlikely we'd ever take it anywhere as a family. The CL is an interesting compromise. The long coupé body gives me something different than our other cars. And even though the back seats are comically small, they're usable by people with short legs since I don't slide my seat back very far.
Muscle Car
Big motor. Rear wheel drive. Hardtop coupé. Sucks gas. Shreds tires. Yeah, this is a muscle car. But a muscle car with refinement. More like a Ford Thunderbird when they started getting huge in the late '50s, or a gigantic Pontiac Grand Prix, infamous for its SD421 mill, long doors and longer hood. That was the era of the personal luxury coupés: Riviera, Charger, Mark, Eldorado, Toronado, Marlin, etc. They were huge, heavy and had the biggest engines available and a large serving of luxury options and unusual gadgetry. I love the long, sleek lines, the '60s-style missing B-pillar, the clean, two-door look.
This big Benz is very much a departure from my usual fare. It weighs nearly 4500 lbs. and gear changes come from a conventional automatic transmission. Very much unlike a big ol' '60s muscle car, though, the Active Body Control hydraulic suspension keeps it perfectly flat through corners and absorbs speed bumps easily. As controlled as it is, you still feel all that weight. It turns in nice and flat but the tires simply give way when they're overwhelmed by the car's prodigious mass. The regular CL's brakes, with large, 4-pot calipers and huge, vented rotors, still aren't equal to the AMG brakes which are more capable of converting this pig's velocity into heat. But ultimately stopping power, too, is limited by the comparatively skinny 245mm tires.
Driving this car for a week and then jumping in the Golf reminds me just how fun that little hatchback is. So it helps to get a little variety now and then to remind us how good we have it.
The Concept
My original plan set out from the beginning of this crazy idea was to slap on a custom exhaust with plenty of mufflers for times requiring stealth and electric dumps for when it was time to howl. But something happened when I started to drive this car. It just didn't have that wailing Ferrari vibe. It wants to be quiet and smooth. Sure, when you stab open the throttles it puts the big torque down. But it does so without a lot of noise, tire smoke and other drama. You just feel this irresistible, Mighty Hand of God thrust moving this massive brick forward. Shifts from the 5-speed automatic did't bang off like a Saturn V second stage, they smoothly pour on speed. It's just…not what I expected from such a tractor of a prime mover. So I just did't know. I decided to leave it alone and let it do what it does best and enjoy it for exactly what it was.
But it was never planned as anything more than a temporary thing. A toy. A means to the experience. I've had a couple of them: The Turbo Beetle Cab was a practical diversion that got me past some downtime on the Evo and the Corvair was my weird, cool, '60s antique. I bought them all in pretty good condition, needing very little if any work so I could spend my time driving them instead of tinkering. But it was the cost of maintenance that prevented me from keeping it long term. I anticipated the maintenance, weight and automatic transmission would reduce the fun factor but those parts were still a little disappointing. I had it for nearly a year and checked V12 off my bucket list. It was quite a ride.