1965 Chevrolet Corvair Monza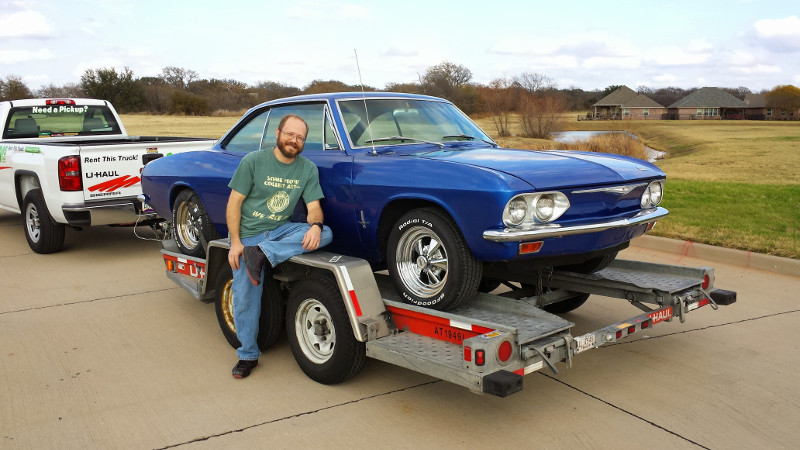 So I bought this 50 year old car. Here I am picking up my prize 2014-12-13.
I was really looking for a '60s GTO…or more likely a Tempest or LeMans that I could restify with a modern LSx/T-56 combo and maybe even make the cosmetic change to clone a GTO. (A real 242-VIN GTO in reasonable driver condition is pretty much beyond my budget.) There were other thoughts too: first generation Firebird, early Buick Riviera, any old Pontiac wagon or just about anything interesting into which someone already transplanted the LSx/T-56. I've really been jonesing for a V8 with rear wheel drive ever since I sold the 928.
I read more about the GM Y-body cars from '61-'63 and really got into the idea of a '61 or '63 Tempest/LeMans with its unusual front-engine/rear-transaxle layout. (Just like the ol' 928 and 944.) I love the front of the '61 and the tail of the '63 (and don't really care for the style of the '62). Of course such a wagon would be ideal! And the LSx plan would seemingly work in the platform with a rear-mounted C5/C6 Corvette transaxle. But those cars are exceedingly rare.
Then a friend turned me onto the idea of the related X-body Corvair…
Chevrolet Corvair Highlights
Forget what you think you know about the name, Corvair, from a certain '60s rising political star. The Corvair was using technologies and designs similar to contemporary European sports cars not to be commonly seen on typical domestic passenger cars for a decade or more later. By the second generation, it was one of the best handling cars available in the US owing to light weight and a fully independent, modern rear suspension.
The Corvair has an air-cooled, 2.7L, flat-six motor located behind the rear axle driving the rear wheels with optional turbocharged power. It has a fully independent rear suspension, though its forebears got by with a swing-axle rear. The chassis is a monocoque and the car weighs less than 2500 lbs. Sound familiar? Perhaps you are thinking of that most famous model from a certain German sports car manufacturer? What if I told you it's reliable and inexpensive to maintain because it was made by Chevrolet? OK, it doesn't exactly go like a 911, but it doesn't cost like one either.
Corvairs are fairly inexpensive to buy thanks to a grossly inaccurate public perception. Owing to an active enthusiast presence, they're also fairly easy to maintain with original and reproduction parts availability.
Corvairs span two generations built from 1960 through 1969. The early model (EM) cars were built from 1960 through the 1964 model years. Their body shape is a little blocky but low and trim like much Chevy styling of the time. The early Corvair was available as a hardtop coupe or four-door hardtop sedan and a convertible. Starting in '61 a station wagon (the Lakewood), 6- or 8-door panel and passenger vans (the Corvair 95 or "Corvan" and the Greenbrier Sportwagon) and pickups with (Rampside) or without (Loadside) a large fold-down ramp on the side making it easy to load wheeled cargo. The van and pickup bodies were referred to by Chevrolet as "F.C." or Forward Control as the driver controls were located in front of the axle.
The late model (LM) cars were built from 1965 through 1969 model years. The body was changed with a sexy, wavy new "Coke bottle" shape of the mid '60s with a character line starting at the front fender, running down the door(s) and bulging up over the rear fender before tapering to the tail. The rear suspension was improved with a proper independent geometry similar to the contemporary Corvette, though lacking the transverse leaf spring. This dramatically improved the LM Corvair's handling over the EM's reputedly "twitchy" or "spooky" behavior. 1965 saw the highest Corvair sales figures of the entire model run. Gone, however, were the wagons. The FCs continued unchanged from '64 through the '65 model year but were dropped in '66. Weight was up slightly but so was power across the board. With sales falling dramatically, 1969 was the final year for Corvairs.
Corvairs were generally available with a couple power levels on the same 2.7L H6 motor in 2×1 bbl, 4×1 bbl and turbocharged trim. Power went up slightly over the years as did weight. Power levels in the LM cars were 95 and 110 bhp in the 2×1 bbl motors, 140 bhp in the 4×1 bbl motor and 180 bhp in the turbo. Weight in the '65 coupe is given at 2440 lbs. Corvairs were available with a 3- or 4-speed manual transmission with a floor shifter or a 2-speed Powerglide automatic.
There were also a few special models produced including the Yenko Stinger, the Fitch Sprint, the Monza GT concept car and others.
My Corvair
I bought my car with the intention to drive it, not to tinker with it. However, it is still a 50 year old car and it is simple enough that even my limited skills are somewhat useful. I have an evolving, staged restoration and modification plan for what needs to be repaired on my specific Corvair. In my search I looked for cars in the best reasonable condition I could find and, for simplicity and reliability, I was specifically avoiding '60s-era turbocharging. Plus I kept an eye out for improvements I planned to do anyway like an aftermarket air-conditioner and disc brakes — which this car had. I figure let someone else pay for that expense if at all possible and buy at market value.
As the story goes, this car underwent restoration five years before I bought it. That accounts for the very nice (mostly) new interior including the custom seat inserts, the cheap blue repaint, an engine rebuild, the aftermarket A/C and probably a bunch of other things including the Cragars. Then it was purchased by the gentleman from whom I bought it who, much more recently, replaced the "front end" (springs, some bushings), added disc brakes and replaced the carburetors with a pair of rebuilt Rochester 1 bbls from Wolf Enterprises. Despite a number of rust bubbles under the paint, it was in quite acceptably good condition. Certinaly it was better than most of the rust buckets I saw in ads — you could tell where the deeper-than-surface rust was even in the tiny photos. I didn't even bother looking at a really over-priced Corsa in Houston. And the engine hardly needs any attention whatsoever and has but a single fluid leak at the transmission shift rod. What a find!
My car is a 1965 Corvair Monza with the 110 bhp 2×1 bbl motor and a 4-speed transmission.