2013 Passat TDI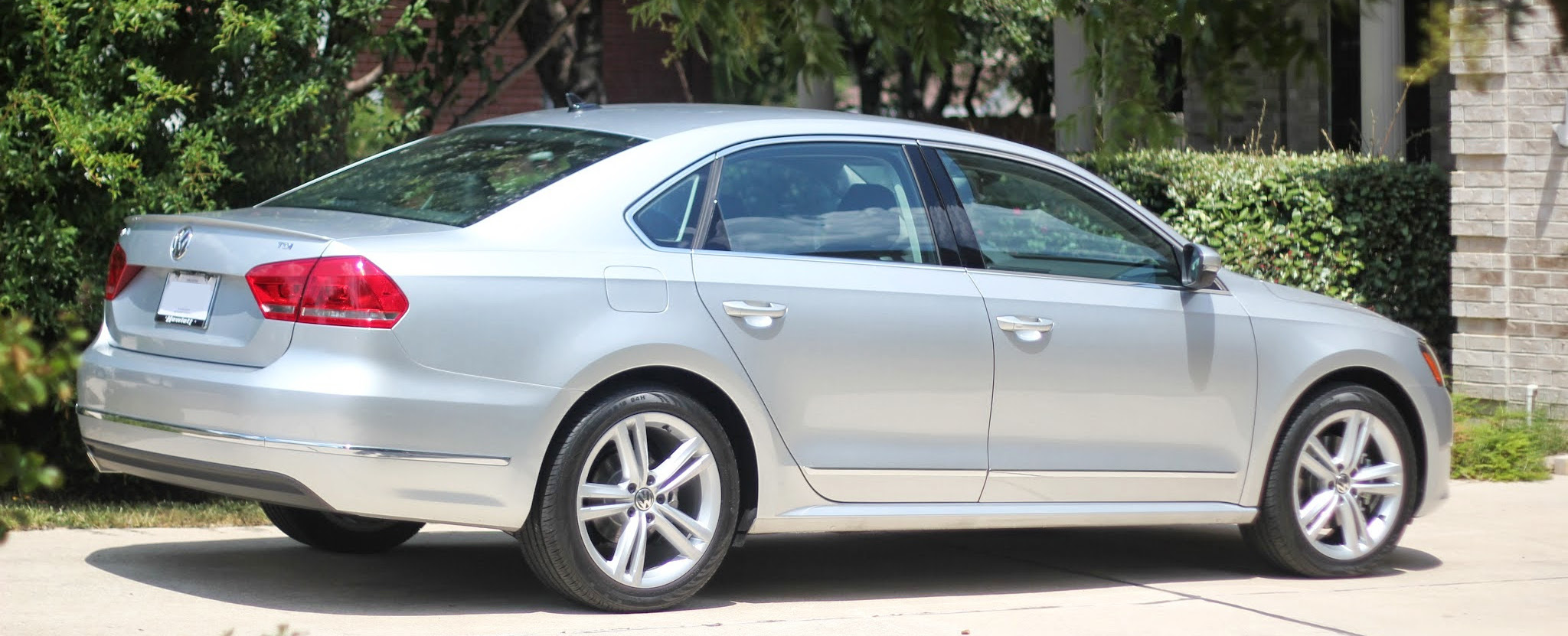 We were in the market for a new family car in 2013 to replace our much-loved Legacy GT wagon. Unfortunately proper wagons hadn't been selling well in the US. Any longroof larger than a Jetta was a tall, clumsy crossover. The Prius v was surprisingly spacious inside but horrible in every other way imaginable. Subaru wasn't offering the Legacy in wagon form anymore and the tall Outback lost the sweet EJ257 turbo four we loved in ours. And the Subaru styling pendulum was swinging back to awkward. So that meant that if we were going to get a sedan after all, we were going to get the best one available.
This is the VW Passat New Midsize Sedan (NMS) designed for the American market and built in Chattanooga, Tennessee. It's roughly equivalent to the Passat B7 available in most other parts of the world, though entirely lacking in a wagon version. (Yes, I am still bitter, VW.) Neither does it offer VW's 4Motion all-wheel drive. Maybe the next US-market Passat will be based on a B8 chassis common with other performance wagon-loving folk around the world.
I was impressed with the fuel economy of the 2.0L TDI motor. It compared very favorably against the Prius but with vastly more torque and acceleration. The Outback's H4 motor was entirely underwhelming and despite similar peak ratings, the pricey H6 was simply not as good as the old turbo four. So even though the other two were big back seat wagons, they were simply not as good as the Passat.
Highlights
This car excels at limousine comfort with a typically VW interior. With 39" of legroom, the back seat is huge, comparable and exceeding full-size cars. The materials are well above its mid-size, family car competition as are fit and finish with a tasteful, conservative style. The SEL Premium trim level provides memory settings for the driver's seat and mirrors, remote start, backup camera, leather and wood trim, climate control and the larger 9" infotainment display with the good-sounding Fender-branded audio system. Mentioned above, diesel economy and torque are excellent. Inside the cabin you cannot tell it's a diesel at all.
The 2.0L turbo-diesel puts out a mere 150 hp at a surprisingly high 3500 rpm for an oil-burner. But the torque is a very satisfying 236 lb-ft at a low 1750 rpm with a suspension geometry that produces zero torque steer. A little aftermarket tuning brings that up to nearly 300 lb-ft.