2016 Volkwagen Golf R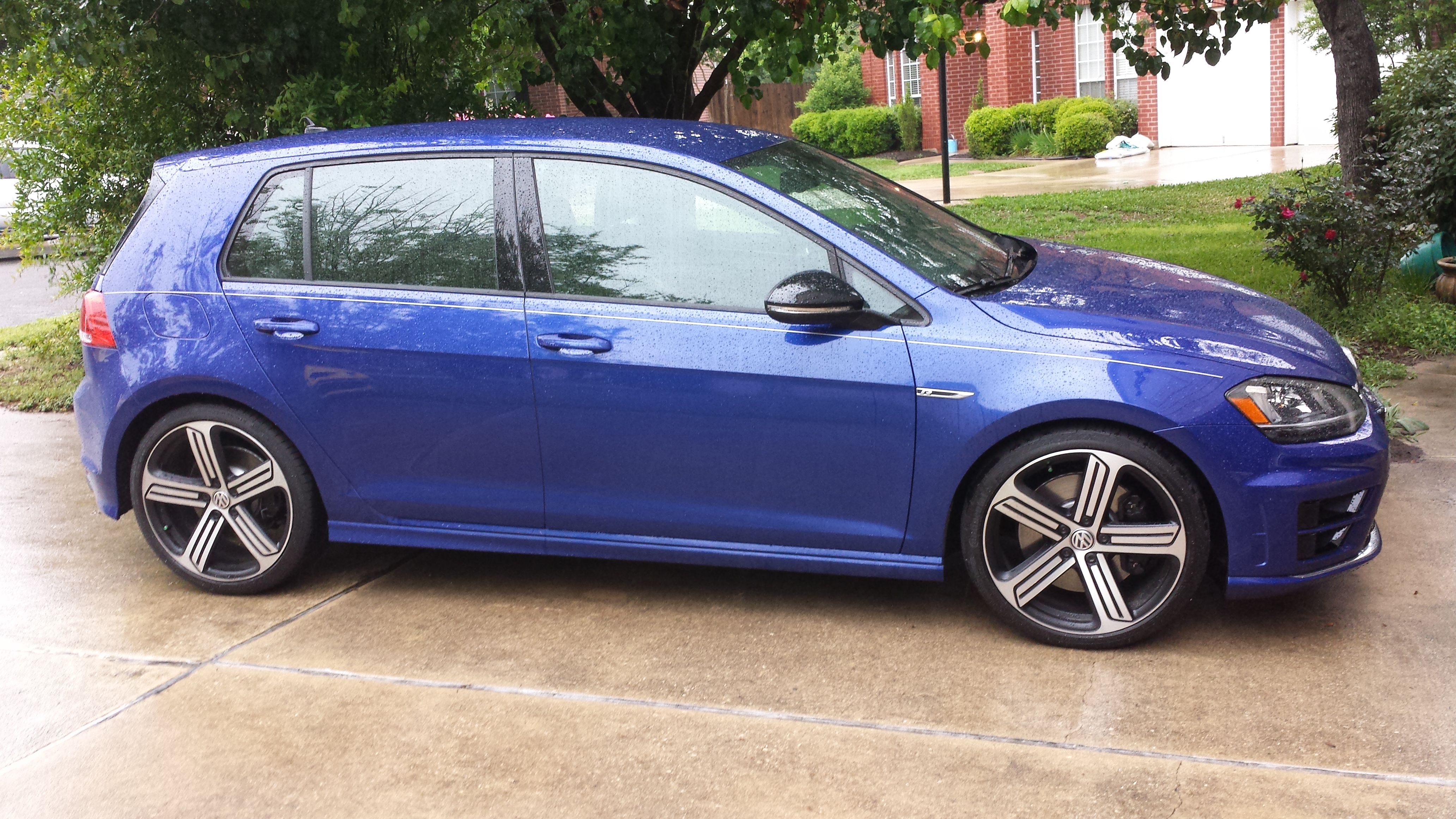 This is my 2016 Mark VII (a.k.a. Mk7 or 7th generation) Golf R, pictured above the day I brought it home from the dealership. It comes with a 290 bhp 2.0 liter turbo inline four-cylinder engine, 6-speed manual transmission, 4MOTION all-wheel drive, Dynamic Chassis Control (DCC) cockpit-adjustable dampers, the NHTSA's 5-star safety rating, sporty and comfortable leather seats, VW's decent-sounding Fender®-branded audio system with sat-nav and Android Auto/Apple CarPlay, keyless ignition and other modern features. Torque peaks at a low 1,800 RPM to provide an almost V8-like power curve. It gets 30-34 MPG on my morning commute. It's equally easy to drive in traffic, on the open highway, in bad weather or a twisty back road. It sports understated, conservative good looks in a handsome two-box wagon with hatchback practicality and a surprising cargo capacity. And it's always fun and engaging.
I love my Evo but all its modifications left it a less than idea commuter car, particularly in stop-and-go traffic up a few steep grades where I live in the Texas Hill Country. Plus at 13 years old, it was starting to have some old car breakdowns. While it was nothing critical or necessarily related to the mods that had been on the car for a few years already, it did leave me stranded a couple times. So my plan was to get a fun but less radical daily driver and keep the Evo for the times I could drive it fast. I had done my research and already had family approval for the fitment of a used Subaru WRX or STI hatchback (the only way to get a Scooby hatch at that time). My research into Mk7 Golf Rs told me of interesting improvements over the Mk6 R and the availability of a manual transmission for 2016. But $40K new was more than I wanted to spend and the likelihood of finding one used approached nil. But it was still in my search rotation and this little beaut popped up with 5,000 miles on the odometer and $10K off MSRP. It was only an hour away and I even liked the color. What a deal! So of course I jumped on it. Negotiation at the move-the-metal dealership was unpleasant enough until I walked away which seemed to do the trick. I got my price and after a couple dreadful hours in the finance department (despite arriving with my own financing) and waiting on the prep crew, I hired a couple guys to help me drive the Evo and the R home.

I love the adjustable suspension for smoothing out the bumps on some of the local roads I frequent and I've made a few improvements here and there. I wish my 2016 were available with all the driver assistance features in our Passat VR6 like adaptive cruise control, blind spot monitor, etc., but I'm not about to trade my financial coup for it. It's great to be back in a hatch since the Porsches and driving a car with tasteful, classic looks that doesn't grab the attention of traffic enforcement and 15-year-old boys alike.
In fact, it's turned out to be such a great car I ended up selling the Evo. I probably would have kept the rally car if I had a third garage bay to keep it out of the elements. Even new, the Evo's torque peak was north of 3,000 RPM; the cams and turbo pushed that past 4,000. So even though the Evo leads it by at least 100 peak horsepower, the low-down torque gives it the area under the curve to make the R's power more usable in all situations. And the Golf's short wheelbase and good-enough chassis, handling and AWD left me driving the Evo less all the time. I miss the radical, yellow screamer but the Golf R does a great job as my all-purpose car.