What is a Firehawk?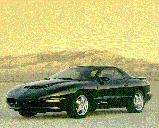 A Firehawk is a "factory" modified Pontiac Firebird. It begins life on the regular assembly line in Quebec as a Firebird Formula with the Chevy LT1 350cid V-8 motor (275hp). From there, they are put on GM's transportation system and sent to the Street Legal Performance (SLP) factory just down the road. From there it is put back on the transportation system and delivered to your favorite Pontiac dealer. The base upgrade includes:
"Ram Air" cold air induction system (+25hp), a name hearkening back to some of the fastest Pontiac engines of the '60s
Composite hood with functional scoops for Ram Air
Upgraded suspension including

Thicker front sway bar and bushings
Panhard rod (track bar)
Jounce bumper spacers (for larger tires)
Rear lower control arms

Specific Speedline aluminum wheels with Firestone Firehawk SZ P275 40R17 tires (P245 45R16 on convertible)
Firehawk decals
Serialized dash plaque
Mobil 1 synthetic engine oil and rear-axle lubricant
Available optional equipment includes:
The horsepower claims stretch the imagination a bit. More likely the cold air induction through the hood is within the laminar flow of the body, so forget any significant positive pressure "ram" effect. The fresh air, unheated by the engine compartment should be cooler and, hence, more dense with combustible oxygen. But the Formula airbox is fed from outside too, just not through the hood so no big gain there either. The filter itself provides more surface area than the Formula's, so that could be good for something. So that and the simple cat-back exhaust are probably good for about 5 hp each. SLP claims 4.9s 0-60 and 13.5@103mph in the 1/4 mile which may be possible with drag slicks. But the hood looks good, the exhaust sounds incredible and there is some thought that the LT1 V-8 was slightly underrated, so I'm not complaining if the hood decal doesn't quite measure reality.
Street Legal Performance is considered a low-volume manufacturer like Saleen of Mustang fame and not simply an aftermarket tuner. All Firehawk components have been crash-tested and are covered by SLP's warranty matching the usual GM 3/36. SLP also performs the Comp T/A, WS6 Formula and Trans Am, and Camaro SS conversions.